Travel Tips: Bolivia
Bolivia is an extraordinary land of extremes, of climate, landscape and culture, calling for a sense of adventure and flexibility within travelers. Its terrain ranges from the spectacular and snowy Andes Mountains, to rugged expanses of desert, and to the lush Amazon Basin rainforest. It also borders glass-smooth Lake Titicaca, South America's largest, and the world's highest, body of freshwater, which we will explore through our time on the serene island of the Sun and the Moon, birthplace of the Incan gods. Bolivia is the most indigenous country on the continent, with dozens of different ethnic groups, each with their own rich and vibrant traditions that are kept very much alive today.
One of many useful websites for a thoughtful and thorough look into, and celebration of, Bolivia is Bolivian Life.
Identification and Visas
Everyone entering Bolivia must:
Have a valid passport:

with at least 6 months before its expiry at the time of entry. 

 Make sure you get entry and exit stamps from the Bolivian authorities upon entering or  leaving Bolivia.
Have a valid immigration card:

those of us entering Bolivia from Peru will need to present at the Bolivian border the paper immigration card we receive upon arrival in Peru (this card indicates your date of arrival and the amount of days permitted in the country). Anyone entering Peru via the Lima international airport, however, will be registered electronically and will not need a paper immigration card.

Confirm whether or not a visa is required:

Many nationalities require a

visa

to enter Bolivia. Visa requirements vary, depending upon the nationality on the passport under which you will be travelling. The

Bolivia Hop

website outlines some simple steps to determine your visa requirements.
Visas
U.S. nationals need a visa to enter Bolivia; it is strongly recommended that you apply for your visa in advance of your travels. Please contact us at quest@opencenter.org if that is not a possibility.
Here is a checklist of the documents that U.S. nationals need for the 30 day Tourist Visa application process:
Complete the Sworn Statement For Visa Application (on the

Bolivian Consulate website

)

Two recent 2" x 2" passport type photograph

Original Passport with at least 6 months of validity

Copy of a hotel reservation or invitation letter from Bolivian friends or relatives indicating the host address (the

Open Center

will provide this document, and contact all participants as soon as it is available)

Round trip ticket or copy of travel itinerary

Current bank statement or equivalent that shows economic solvency (parent's or legal guardian's Economic Solvency documents are accepted for underage applicants)

Visa fee: US$ 160.00

The visa can be obtained at any Consulate of Bolivia
There are Bolivian consulates in several U.S. cities: New York City, Washington, DC, Miami, Houston and Los Angeles. When applying in person, allow between 5 and 10 days for processing, and expect to drop off your passport along with your paperwork. It is also possible to apply by mail, using a money order, a return pre-paid envelope, and a reliable courier service. Expedited service is not available.
Travel Insurance
Travel insurance is required for our time in Bolivia; you'll need to submit proof of this prior to beginning your travels with us in order to participate. A comprehensive policy (covering personal accident, accidental death, medical expenses and emergency repatriation) will protect you in the event of unexpectedly having to cancel or change your travel plans either before or during our conference, losing your luggage, if the program is affected by circumstances beyond our control, or if any medical assistance is needed.  
Policies vary, depending upon the degree of coverage desired, and include options such as "Airline Ticket Protector" plans.  It's also wise to verify your chosen airlines refund policy, as they too vary, and at times offer ticket reimbursements where travel insurance may not.
Altitude and Health & Wellness
Lake Titicaca is at an altitude of 12,507 feet; La Paz sits at 11,942 feet.  People unaccustomed to high altitudes may experience fatigue and dizziness. This tour is not recommended for anyone with a heart or respiratory ailment or any condition that may be exacerbated by high altitudes.  A moderate amount of walking is required, sometimes on uneven surfaces. Participants are held responsible for being in sufficiently good health to take the trip; we suggest that you check in with your doctor to confirm that this tour is appropriate for you.
There are a number of recommendations that can help with acclimating to a higher elevation and minimize soroche, or altitude sickness. The best piece of advice is to take it easy: don't overdo activities, stay hydrated, and avoid alcohol or cigarettes (unnecessary stairs too!). Go slowly, as you'll feel more tired than usual. Mate de coca, or coca tea, supports breathing and is the traditional Andean remedy for altitude sickness (it is also available as dried leaves or gum, chewed incessantly by young and old alike). Coca tea, as well as oxygen, is available at the airport and in most hotels.
Alternatively, acetazolamide is an altitude sickness pill available by prescription (under the name Diamox); it's important to consult with your doctor beforehand if you are interested in this pharmaceutical option.
Immunizations & Health
No vaccinations are required to visit Bolivia, and we will only be traveling in areas considered to be of low to no risk of malaria or yellow fever; however, we suggest you check with your healthcare provider's recommendations for you.
One important note:
Remember to bring any necessary prescriptions or over-the-counter medications in their original containers, and in your carry-on bag!
Water
Visitors should drink only sealed, bottled, water, which is widely available. Agua con gas is carbonated; agua sin gas is still water.  
Do not drink nor brush your teeth with tap water, even in major hotels. Try to avoid drinks with ice. It is also useful to avoid any raw or unpeeled fruits and vegetables (anything that may have been washed in tap water); cooked or peeled ones should be fine.
To minimize the risk of gastrointestinal ailments in a new environment, it is wise to remain hydrated by drinking plenty of bottled water, to eat and drink (coffee, tea, alcohol) in moderation only, and to wash hands often with soap and water. It also may be helpful to travel with lactobacillus acidophilus capsules, which enhance beneficial intestinal flora and can be a preventative measure against digestive upsets.
Toilets
Public lavatories (baños públicos) are rarely available except in railway stations, restaurants, and theaters. Public restrooms are labeled WC (water closet), DAMAS (ladies), or CABALLEROS or HOMBRES (men). Toilet paper is usually not provided; carrying your own paper is recommended.
Safety
In general, Bolivia is a safe country to travel in. As in many large cities, though, you'll want to practice common sense and street smarts in La Paz and El Alto. Be aware of your surroundings and belongings: refrain from displaying valuables; avoid isolated alleys and streets, especially at night; remain alert.
In an emergency, call 110 for the police.
When using a taxi, you'll want to book one through your hotel, or choose a radio taxi which has its company name and number on the roof.
As for taking photographs of people, be sure to ask for permission whenever you can; being respectful of your subjects will be appreciated.
Electricity
U.S. electrical sockets and appliances run on 110-120 volts, while those in Bolivia run on 220-230 volts (some older buildings in La Paz still use 110-volt outlets). If you want to use a 110-volt appliance in Bolivia, you'll need to buy a voltage converter (or power adapter).
However, dual voltage appliances (such as most mobile phones and laptops) are designed to run on either 120 or 220 volts, eliminating the need for a voltage converter. Dual voltage appliances that have a different plug attachment will need only a plug adapter.
In Bolivia the power sockets used either accept a flat blade ungrounded plug (Type A) or a two-pronged ungrounded plug (Type C):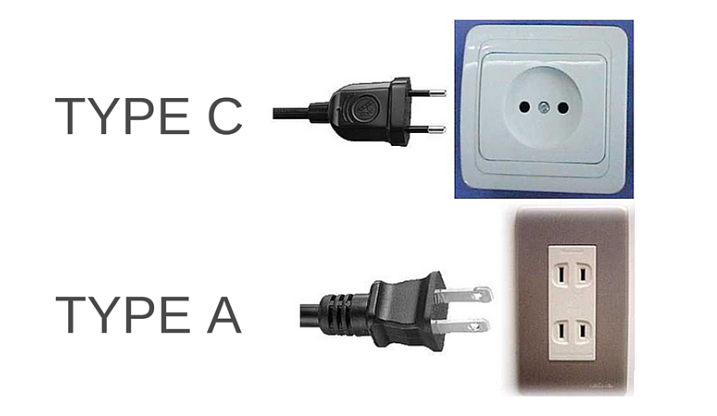 It is a easier to purchase plug adapters or voltage converters before you go to Bolivia. Universal plug adapters are inexpensive and easy to carry around. Some international plug adapters have a built-in surge protector, providing an extra layer of protection.
Currency
Bolivia uses the Bolivian boliviano (B$, Bs or BOB). Banknotes come in denominations of 5, 10, 20, 50, 100 and 200; coins consist of 1, 2 and 5 bolivianos and 10, 20, and 50 centavos. There are 100 centavos in a boliviano.
Bolivia is still very much a cash society (only upscale establishments such as restaurants and hotel accept credit cards); you'll want to be sure to have bolivianos on hand at all times, and in as small notes as possible (U.S. dollars are also often accepted; however, if you pay in dollars, you will likely receive change in bolivianos, so be aware of the correct exchange rate).
ATMs are common in most large cities and towns in Bolivia (but not all, especially the more remote villages). The exchange rate at ATMs is almost always better than what you'd get exchanging cash at a bank or exchange house, even with fees. There is a limit of $300 USD per ATM transaction, as a safety precaution.
Be sure you know your personal identification number (PIN); at some ATMs, your personal identification number (PIN) must contain four digits.
Money exchange houses (cambios in Spanish) are in most locations, often in abundance, useful for either exchanging dollars, pounds or euros into bolivianos, or for breaking the larger banknotes from ATMs into smaller bills. Local shop owners rarely have loose change (suelto in Spanish).
Please remember to advise your bank that you will be traveling, since many banks will err on the side of caution and assume your debit or credit card has been stolen and might suspend it temporarily. You'll also want to inquire as to what your bank's international withdrawal fees may be.
Internet
WiFi coverage in Bolivia is gradually growing; many cafes and hostels have WiFi, and while connectivity can be slow, it does the job for those looking to get some work done or even Skype home.
Phones and International Calling
The country code for Bolivia is 591.
To call Bolivia from the US, you'll need to dial as follows:
Dial 011 – the US exit code

Next dial 591 – the country code for Bolivia

Finally add the phone number
To call the United States from Bolivia:
Dial 00 + 1 (US country code) + phone number
Mobile Phones and International Calls
It is possible to purchase a SIM card, with a Bolivian phone number and varying amounts of data. To refill data, buy cards (ask for crédito, or credit) from the numerous privately-run shops (puntos) in any city or town. Local telecoms include Entel, Tigo, Cortel, Boliviatel and Viva. You'll need to make sure that your mobile phone is unlocked if it is tied to a single carrier.
If you don't want or need to buy a SIM card, make sure to check the roaming charges with your carrier before your departure so there are no surprises when you return home.
International calls made from telephone offices are increasingly becoming cheaper, varying between B$1.50 and B$8 per minute. In La Paz, the cheapest calls can be made from international calling centers around Calle Sagárnaga for about B$2 per minute.
Most internet places have Skype installed, which you can use at no extra cost  – you just have to pay for the time online. Connections can be slow, however.
Time
Bolivia is four hours behind Greenwich Mean Time (GMT) and observes Bolivia Time (BOT) all year. During Daylight Saving Time, New York City and Bolivia are on the same clock.
Food & Drink
Bolivia's cuisine is as distinctive and varied as its landscape; not only satisfying, it is also an important and unique part of the culture, a mixture of Spanish influences and ancient Andean traditions. Aymaran dishes in the Andes and Altiplano center on potatoes, rice and quinoa with meat, usually mutton and llama, and the spices suited to a high, cold climate. Foods in the lowlands are more tropical, featuring an abundance of fruits, yucca and plantain along with beef, while Lake Titicaca is known for its delicious trout, or trucha.
The land itself provides a marvelous array of foodstuffs, more than 200 varieties of potatoes, and myriad types and colors of maize, chiles and quinoas, ending up in such specialties as salteñas (empanada-like pastry filled with meat, vegetables, olives and hard-boiled egg), lomomontado (steak with fried egg and chopped tomato), sajta (seasoned boiled chicken atop tomato, onion and chuño, freeze-dried Andean potatoes), sopa de mani (a brothy soup with potatoes, vegetables and peanuts), cuñape (made from cheese and yucca flour) and llajwa (a chili and tomato salsa served with most dishes).
Typical Bolivian drinks include chicha (a fermented maize beer with a bittersweet flavor) and api (a hot, hearty drink made with purple maize, pineapple juice and cinnamon).
Tipping
Tipping in Bolivia is not something you'll ever feel pressured to do; however, it is an easy way to make a small difference in the lives of staff who often work for very low wages by Western standards.
Service charges are not normally added in restaurants and bars; if you want to show your gratitude, a tip of around 10-15% will go a long way. Small change is often in short supply, so leaving any coins you are given in your change will also be appreciated.
Taxi drivers are not usually tipped; however, if your driver has made an extra effort for you, helping with your bag for example, you may want to round up your fare.
Tipping maids and porters B$5-8 (around $1 USD), per favor (bags carried, room cleaned, etc) is a good way to give your thanks.
And if you've been offered good service on a tour, you might consider tipping your guide and/or driver around B$5-8 per hour, or B$50 (around $7 USD) per day.
Packing List
While participants are strongly encouraged to pack as lightly as possible, dressing in layers is important when traveling in Bolivia. During August, at the high altitudes of Lake Titicaca and La Paz, it can be fairly warm during the day, with clear blue skies, light breezes and a strong sun (which demands sunscreen!), yet the temperature can plummet at night to freezing.
Light wool is a good choice to wear against your skin as it naturally helps to regulate your body temperature - keeping you warm in the cold and wicking away moisture when it's hot - and it doesn't retain odors, even after prolonged wear.
General Items:
Rain gear: waterproof or quick-drying pants; a waterproof jacket or poncho
    (useful for the boat ride to the Islands of the Sun and Moon)
A sturdy pair of comfortable, broken-in hiking boots (or waterproof trekking shoes)
Wool socks
Umbrella
Warm coat or fleece layers, hat and gloves (for chilly to cold temperatures)
Wool sweater
Walking stick (if needed or preferred)
Bandana (for dusty environments)
Swimsuit
Reading materials
Journal and pens
Small items from your home country to share with children and families
Plug adapters (and converter, if needed)
Flashlight or headlamp
Travel alarm clock
Color photocopies of credit cards, passport and visa
Day pack (so you can keep another layer of clothing or your rain gear with you at all time)
Day Pack (to keep on your person):
Passport and visa
ATM card with a 4-digit PIN for international use
Any prescription, in its original container, or over-the-counter medication (stored in your carry-on bag)
Camera (remember to always ask permission before photographing people)
Water (* it's extra important to stay hydrated at high altitudes)
Sun hat
Sunglasses
Sunscreen and lip balm with SPF
Toilet paper or tissues
Hand sanitizer
Insect repellant
Cash for local artisans (but only the minimum necessary, kept in your pockets instead of wallet)
Note: There are no ATMs on Taquile, or on the Islands of the Sun or Moon. ATMs are available in Copacabana.
Language
Spanish is the official language of Bolivia; among Bolivia's 38 ethnic groups, it is the most prominently spoken, followed by the Amerindian languages of Quechua, Aymara and Guaraní.
English is not widely spoken but is understood by those affiliated with the tourist industry in major cities and tourist destinations. Learning a few key phrases of Spanish will help immensely. There are a number of free, online language instruction sites. One option is Duolingo.com, an entertaining way to either begin or brush up on your studies.  
One thing to note: Bolivians are regarded as having one of the clearest and most neutral Spanish accents in Latin America; locals speak slowly compared to neighboring Spanish speakers, frequently offering friendly and patient attitudes and encouraging smiles, making Bolivia an ideal place to practice the language!